With You For the Long Haul
SPECIALTY AND CUSTOM BOAT TRAILERS
Once you have decided on the perfect watercraft, we can build the perfect trailer. We are proud to offer custom boat trailers for many boat brands, including Sea Hunt, Key West, Sportsman, Sea Pro, Hurricane, Tracker and more. We also carry specialty trailers for Kayaks, Personal Watercraft, Pontoons, Catamarans, Airboats and Sailboats. Whatever you take to the water, we'll build a quality custom trailer to help you haul it.
TRAILER PARTS AND SERVICE
We carry a large selection of boat trailer parts at our showroom in Statesboro, GA. If we don't have the part you need in stock, our knowledgeable staff can order it. Our specialized Parts Sales team members are ready to assist you. We also have a team of technicians in our service department that can perform any trailer service you need, from repairs to customizations.
At Custom Marine, we are proud to carry a large selection of quality boat trailers. Whether you need a basic fit or a trailer customized for your boat, our skilled staff is ready and equipped to help you get to the water.
Custom Marine Trailer Promotions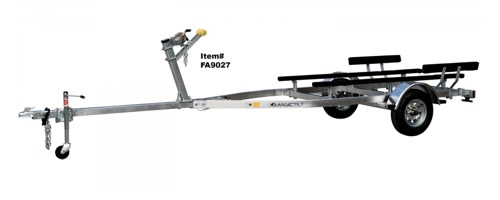 16' Jon Boat / Skiff up to 55" wide
Price: $1629
*All other Jon/Skiff sizes available
Standard Features
Custom Reinforced Tube (CRT) construction
Adjustable undercarriage
Straight tube cross-members
Galvanized spoke wheels
SS Spindle Seal
Galvanized Fasteners
Diamond deck plate teardrop load bearing fenders w/step
Submersible L.E.D. lighting with heavy duty diamond deck plate cover
Swivel mount tongue jack
Carpeted side guides
Heavy duty winch stand & strap with bow-eye safety chain/cable
Heat shrink wire connectors
Carpeted bunks
Fully Grounded Wiring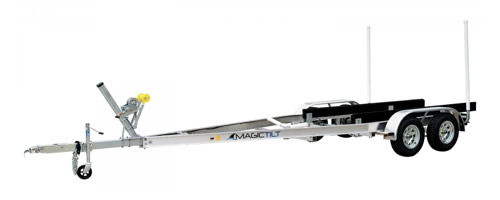 20' Center Console / Dual Console / 4400LB Capacity XPRESS SERIES - Tandem Axle
Price: Starts at $3209
*Custom Trailers for Sea Hunt, Key West, Sportsman, Sea Pro, Hurricane, Tracker etc. available
Standard Features
Aluminum I-Beam Construction
LED Tail Lights
Aluminum deep V cross-members
Galvanized axles and wheels
Posi-lube spindles
SS spindle seal
Diamond deck plate load bearings fenders
Heavy duty winch stand & strap with bow eye safety chain
PVC covered Galvanized tubing upright guides
Galvanized fasteners
Heavy duty adjustable keel pad on front forward cross-members
Heat Shrink wire connectors & fully Grounded wiring
Tongue jack
Single Axle Brakes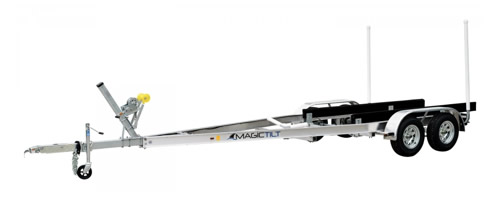 24' Center Console / Dual Console / 6000LB Capacity XPRESS SERIES - Tandem Axle
Standard Features
Aluminum I-Beam Construction
LED Tail Lights
Aluminum deep V cross-members
Galvanized axles and wheels
Posi-lube spindles
SS spindle seal
Diamond deck plate load bearings fenders
Heavy duty winch stand & strap with bow eye safety chain
PVC covered Galvanized tubing upright guides
Galvanized fasteners
Heavy duty adjustable keel pad on front forward cross-members
Heat Shrink wire connectors & fully Grounded wiring
Tongue jack
Single Axle Brakes
18-19' Center Console/Dual Console XPRESS (ECONOMY BUNK) SERIES - Single Axle
Price: Starts at $2059
Price: 17'- to 18' starts at $1989
*Specialty Trailers for Kayaks, Personal Watercraft, Pontooms, Catamarans, Airboats and Sailboats
Standard Features
Aluminum I-Beam Construction
LED Tail Lights
Aluminum deep V cross-members
Posi-lube spindles
SS spindle seal
Diamond deck plate load bearing fenders
Heavy duty winch stand & strap with bow eye safety chain/cable
PVC covered Galvanized tubing upright guides
Galvanized fasteners
Heat shrink wire connectors & fully Grounded wiring
Tongue Jack