We are a Yamalube® Exclusive Service Center
Yamalube®. It's the brand behind every reliable engine. And for good reason. The same engineers who design high-performance Yamaha outboards consult on the formulation of each Yamalube marine oil. All of our care and maintenance products are formulated and manufactured to Yamaha's high standards for quality. Nothing enhances performance, lowers ownership costs or extends the life of a Yamaha Outboard quite like Yamalube®.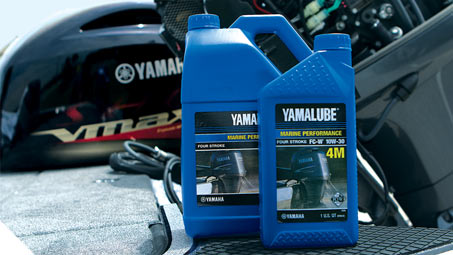 Custom Marine has committed to servicing Yamaha Outboards exclusively with high-quality Yamalube engine oils and Genuine Yamaha oil and fuel filters.
Yamalube oils are formulated to meet the unique demands and operating characteristics of Yamaha outboards, and Genuine Yamaha parts and accessories are engineered to work seamlessly with your Yamaha. Have your outboard serviced at Custom Marine, a Yamalube Exclusive Service Center, and you'll know that highly qualified technicians are using the very best products to service your Yamaha.
Yamalube is the only oil "built around" the unique demands, operating characteristics and applications of Yamaha outboards, but there's more to it than that. Yamalube marine oils also meet or exceed all industry standards for protection and performance.
All Yamalube marine oils have achieved NMMA® (National Marine Manufacturer's Association) FC-W® or TC-W3® certification. Oils that earn NMMA certification have passed rigorous testing, and have been proven to provide the performance and protection demanded by today's advanced outboard technology. These oils stand up to extended full-throttle operation, high loads and the salt and moisture-rich air found in a harsh marine environment.
When it comes to an outboard's long life and high performance, your care and maintenance routine is just as important as the oil you choose. Yamalube includes a full line of carefully formulated lubricants, polishes, protectants, cleansers, fuel additives and adhesives—all created to Yamaha's stringent standards.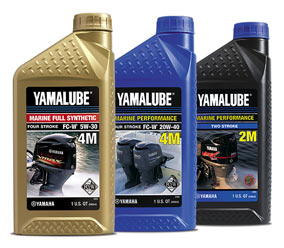 Custom Marine has a technician on staff who has not only attended training at a Yamaha Marine training center, but has also completed and passed the examinations offered during the training. We have also actively engaged in all training opportunities Yamaha Marine offers, including technical training at a Yamaha Marine training center, business management training and service management training. It also means our technicians have attended and completed many of Yamaha's technical training courses.