BOAT PARTS & BOAT MAINTENANCE SERVICE NEAR YOU.
We are conveniently located just off I-16 in Statesboro, GA, just a short drive from Savannah, Hilton Head and Jacksonville. Our 5 acre boat dealership and marine service center is home to some of the area's best outboard engine mechanics and boat technicians. That's why over 20,000 boaters have chosen Custom Marine when they need repair services for their boat, trailer or outboard engine.
Boat Service
Our service department is staffed with experienced marine technicians. Our expert marine technicians can handle basic boat maintenance work, as well as more extensive repairs. Your boat will always receive the best of care by our Service Team here at Custom Marine.
For your convenience, we also offer SAME DAY OIL CHANGES.
Visit Custom Marine for routine boat maintenance such as a tune-up or oil change, winterization and other seasonal services. Contact us when you need repair work for your boat, motor or trailer. Simply click the button below and complete our online service form to request service. Someone from our service center will contact you shortly to confirm your appointment time and services to be performed.
Boat Maintenance & Services:
Oil Changes
Basic Boat Maintenance
Fuel Polishing/Cleaning/Repair
Powerhead Replacement
Antifouling Paint
Electronics Installation
Storage
Winterization
Summerization
Upholstery Repair
Insurance Repair and Estimates
Same Day Oil Changes
Trailer Repair
Electronic Installation
Hydraulic Steering Service and Repair
Scheduled Maintenance
Yamaha YDIS Diagnostic Service
Suzuki Diagnostic Service
Trolling Motor Repair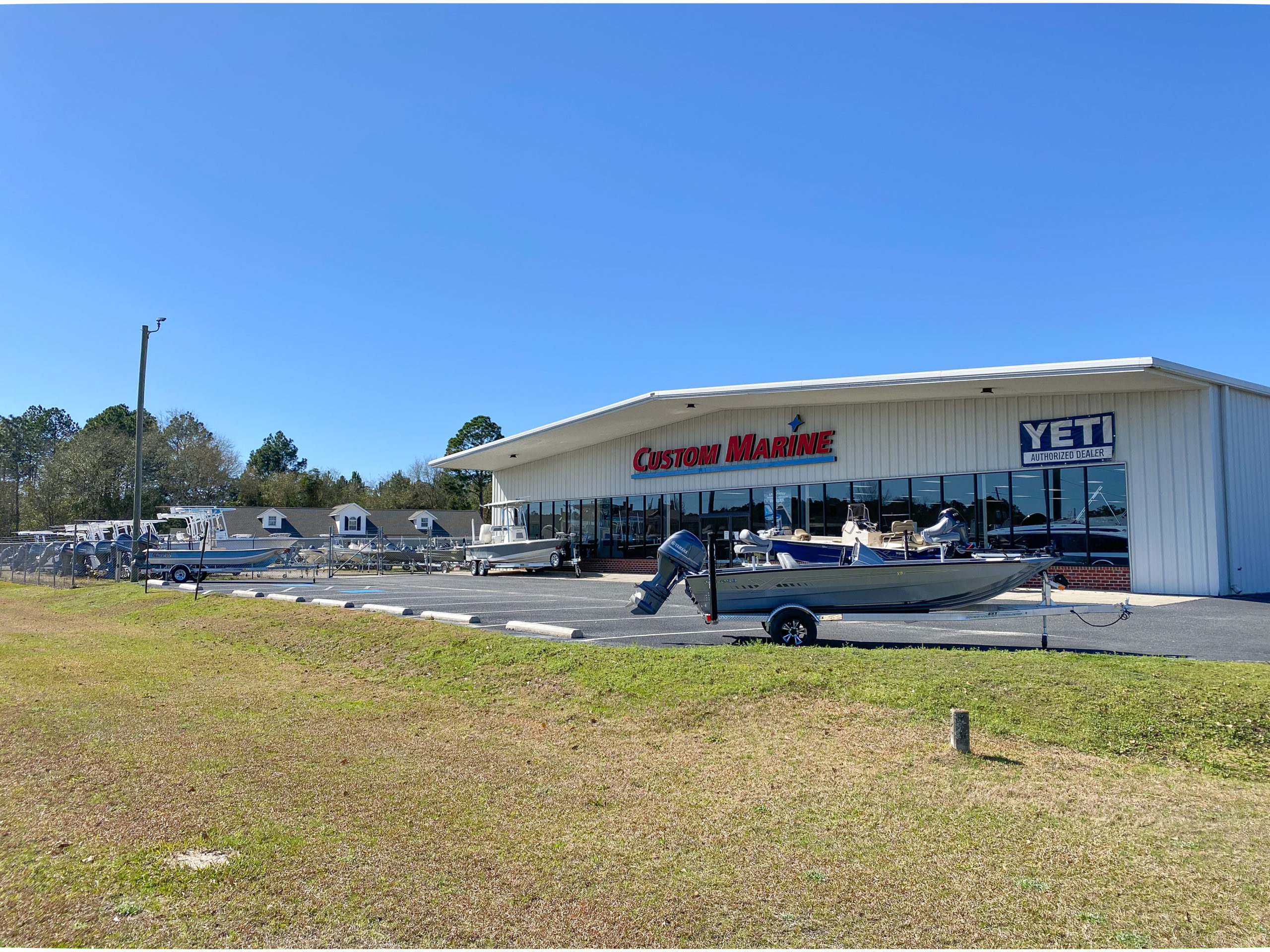 BOAT PARTS, TRAILER PARTS & ENGINE PARTS
We offer a large selection of marine parts and accessories for your boat, boat trailer and outboard engine. If we don't have the part you need in stock, we can usually find and order the part you need. Our Parts Department also includes a variety of boating accessories to meet your needs.
New or used, our experienced parts manager will help you get the right part for your boat at the best price. If you have any questions about the boat parts we have for sale, please feel free to email us at will.massey@custom-marine.com, or call us at 912.681.7777.
Same Day Oil Change
For your convenience, we offer same day oil changes for your outboard engine. Simply complete the Service Request form online to schedule your oil change. After you submit the form, a representative from our service department will be in touch to confirm your appointment. 
Our certified techs provide every outboard motor we service with the best quality care possible.  Our goal is to help you get the longest life out of your boat's engine. We work quickly and efficiently to ensure that you will get your boat back as quickly as possible.
Yamalube Service Center
Custom Marine is the Savannah area's Yamalube exclusive service center. We service Yamaha Outboards with the marine oil developed by the same engineers who build the industry's best performing engines.  We are a Yamaha Outboards authorized dealer, and take pride in installing, servicing, and maintaining Yamaha Outboard motors for our clients.
Reliable Boat Maintenance
Please call our Service Department at (912) 681-7777 to schedule your service work or order parts. Or, click the buttons below to schedule service or request boat parts.
Custom Marine is the first choice of so many boaters from Hilton Head to Jacksonville and from Savannah to Dublin. Our certified repair technicians provide honest, reliable service for boats, outboard motors and trailers. Our customers return year after year because they know they can count on Custom Marine for exceptional service and value. Whether you need regular maintenance, or are ready for a complete repower, you can count on Custom Marine.
Boat owners in the Savannah area trust us for peace of mind that comes from experts helping you maintain your boat. Give us a call today or schedule your service and let us help you complete your boat maintenance checklist. We will help you get and keep your boat, motor, and trailer running in peak condition.
Schedule Service
Request Parts