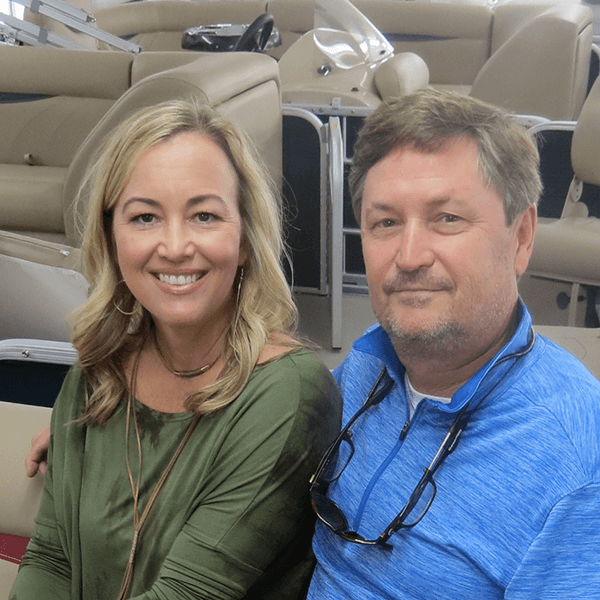 Will Massey & Monica Massey
Owners
Since inception in 1971, when Monica's father, Frank Franklin, began the business, Custom Marine has been a well-renowned source for boaters of all levels. Will joined his wife's family boat dealership in April of 1999, and eventually purchased the business in January 2014. Looking to grow the business thru innovation, hard work and deliver exceptional service, the Massey family continues the family tradition that is Custom Marine.
Will started boating at the age of 20, shark fishing in Calibogue Sound, South Carolina with a close friend. He remembers that first boat well – an 18′ Wellcraft Fisherman. These days led to his passion for boats and helping to create an enjoyable boating experience for boaters of all levels. After graduating from Georgia Southern University in 1987, Will became a partner in Diamond Aviation, an Air Taxi, Flight School and Fixed Base Operation in Statesboro, GA. He served as the GM and backup Pilot until the business was sold in the mid-nineties.
Will and Monica reside in Statesboro, GA, with their two children, Adam and Anna. The Massey's are members of First United Methodist Church of Statesboro. Monica & Will are active members at Forest Heights Country Club, where Will served as past Golf Committee Chair and also served on the Board of Directors. Will has a passion for the game of golf, and the character the game promotes. As a former member of Georgia Southern's Golf Team, the Massey's still support the Georgia Southern Golf program. Monica is a long time member of the Statesboro Service League. Family, church and ability to provide jobs that are stable and rewarding are what drive the Massey family to continue to grow the business every day.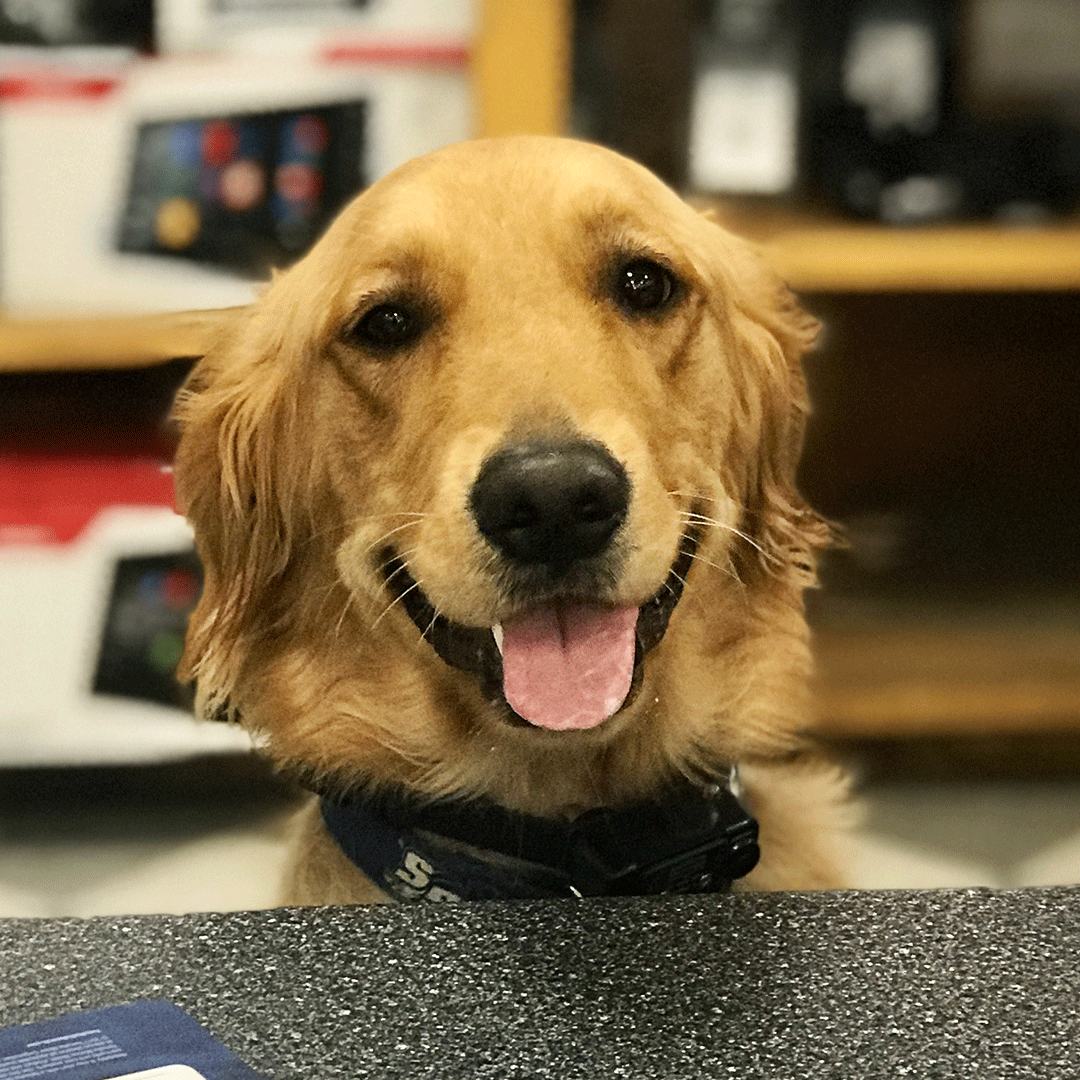 CJ Massey
Customer Service Manager
When you enter Custom Marine, don't be alarmed if you hear a bark. That's just CJ saying hello. She's working on her inside voice, but she just loves her job so much she can't help it sometimes. Though she may look sweet, CJ takes her job at Custom Marine very seriously. As the Customer Service Manager, CJ spreads a little love everywhere she goes. Busted motor? CJ can help. Nervous about finding the right boat? Let CJ ease your mind. Spouse upset you bought another boat? No worries! CJ will keep you company. If you're really lucky, she may even bring you one of her favorite things. Crumpled paper, her new toy, a bone…she's willing to show you all of it in hopes they bring you as much joy as they do her.
When CJ isn't spreading love at Custom Marine, she enjoys spending time with her humans and four legged brothers and sisters. She loves eating, playing outside and running, and getting petted. Whether you're looking for a new boat, getting your boat serviced, buying parts, or just need a friend, CJ is ready to help!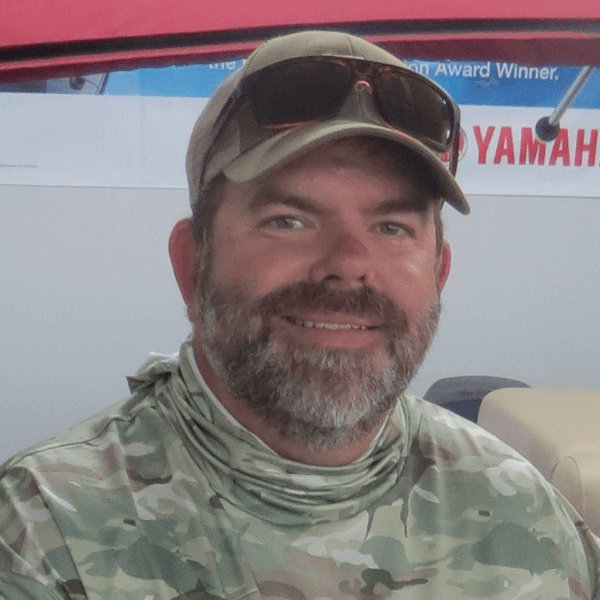 Jonathan King
Sales Representative
Born in Bulloch County, Jonathan was blessed to grow up in a sportsman's paradise. He'll tell you the top four things mattered to him while growing up: family, baseball, hunting and fishing. Years later, his love for the outdoors led in to his professional life, as a Sales Representative at Custom Marine. He supported his college years as a guide at a shooting preserve, which piqued his interest in instruction. He has provided shot gunning tips, dog handling and fishing advice to many. Growing up fishing off of the beaches of Georgia's Golden Isles provided the formation of one of Jonathan's early goals: boat ownership. Upon completing his degree at Georgia Southern University, Jonathan secured his first "real" job. He bought his first boat at Custom Marine; a '96 180 CC Sea Pro. Many boats and countless spring tides later, Jonathan still plies the waters of Coastal Georgia as often as he can. His strong knowledge of the boating industry, combined with his strong desire to help boaters of all levels are two of the main reasons why Jonathan has such a strong following of happy customers. His high school sweetheart, and now wife, Kim, shares his love of the boating lifestyle. They reside in Bulloch County, with two great kids: Jack and Jill. Jonathan first joined the Custom Marine family in 1999, and continues to build lasting relationships with many of his customers. In his spare time, he enjoys volunteering with his church and with youth athletics including baseball and football. He is dedicated to treating his customers, as he would like to be treated. Honesty, respect for one's time and true appreciation for one's business are his guiding principles while guiding a client to their boating lifestyle.
Brad Lanier
Sales Representative
Brad Lanier began his boating industry career in January of 2000. He is a native of Bulloch county and been an avid outdoorsman most of his life. Brad's ties to southeast Georgia run deep, as he is a native of Bulloch County and has been an avid outdoorsman most of his life. During his career at Custom Marine, Brad has helped hundreds of boaters find the perfect vessel to match their boating needs. He has made many lifetime memories fishing and boating with his father, family, and close friends on our coastal waters. Brad takes great pride in sharing his vast knowledge of the boating lifestyle to educate each and every one of his customers on the boat they are looking for, as well as having a safe and enjoyable boating experience. Brad resides in Statesboro with his wife, Abby, and their two sons. He loves spending time with his family hunting, fishing, playing backyard football and little league baseball.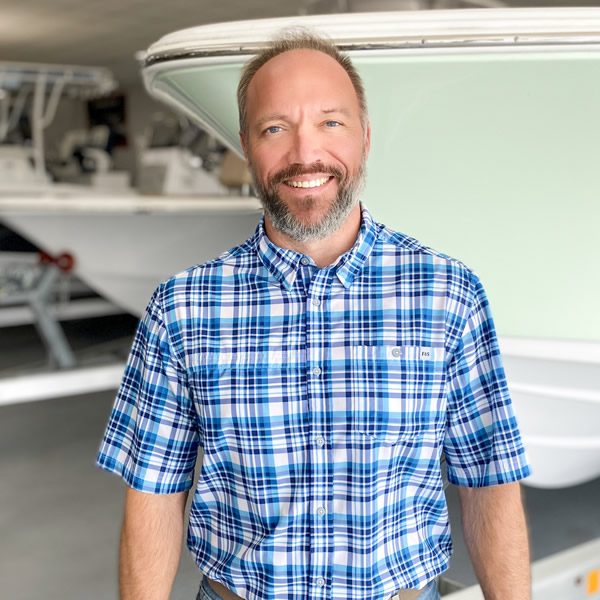 Danny Brinson
Sales Representative
Born and raised in Bulloch County, Danny has enjoyed the beautiful coast of the low country much of his life. Even as a young child, he has enjoyed fishing, hunting, and just enjoying the great outdoors. Danny's love for the outdoors and strong desire to serve others led him to serve in the United States Coast Guard for several years. Upon retiring from the Coast Guard, Danny returned home to Bulloch County. As a sports and fitness enthusiast, and you can usually catch him at most local 5k's and 10k's. Outside of work, Danny enjoys living life to the fullest with his wife, Nichole, and two children Mason and Maggie.
One of the things Danny enjoys the most about at working at Custom Marine is the strong family-centered environment. He is committed to helping each and every customer find the best boat for their needs. His experience on the water and dedication to serving others prove to be beneficial for each customer he has the pleasure of serving.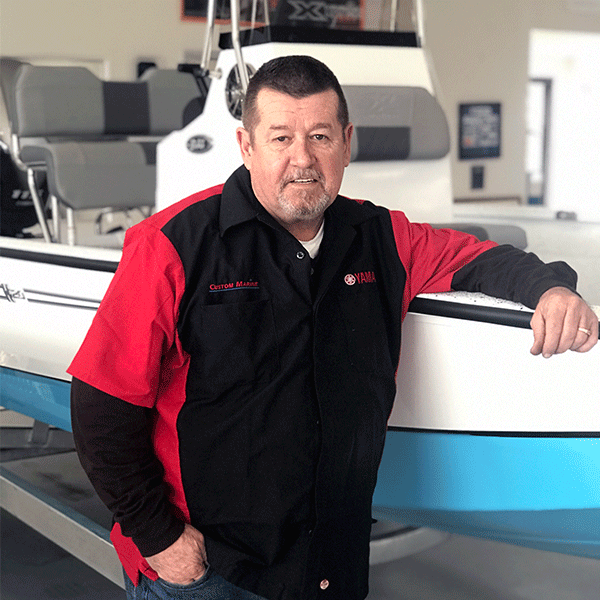 Tim Ray
Parts Manager
Tim Ray's experience in the boat industry started in the late 80's. While he has pursued careers in different industries since then, he's always felt a strong draw back to the boating industry. Tim has gained experience working on many different types of boats throughout the years, from 14′ to 105′, both diesel and gas. He has also held all major certifications for boat repair.
When Tim decided to follow his passion back to the boating industry, he knew he wanted to work with the best. He chose to come work with Custom Marine because he knows our reputation. Tim finds great joy in solving problems for customers, and strives to make every customer's boating experience the best on the water.
Tim currently lives in Springfield, GA, with his wife, Linda.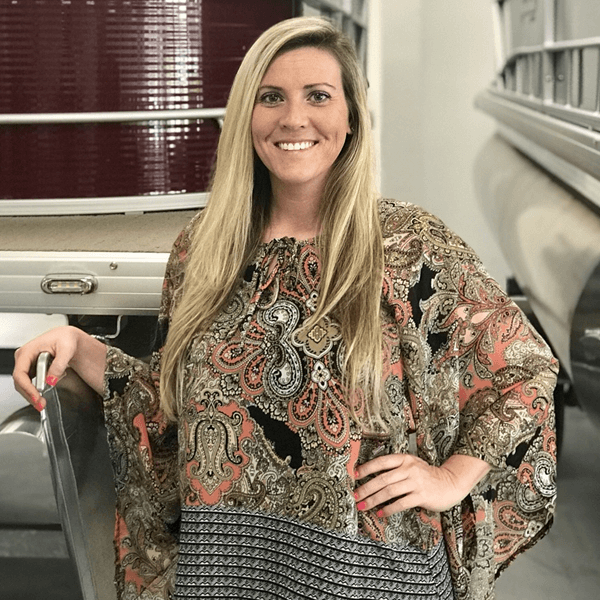 Amber Tucker
Service Manager
Born and raised in Bulloch County, Amber is a proud graduate of Southeast Bulloch High School, and Ogeechee Technical College. Before joining the Custom Marine family, she worked as a cosmetologist, and helped with her family's business, Tucker Utilities. In addition to working at Custom Marine, Amber owns & operates DIG, a Ground Penetrating Radar company. Having grown up on her family farm in Middleground, Amber has a passion for helping animals. She has had most every kind of pet you can imagine, from donkeys and horses to cats and dogs.
Amber's compassion, team attitude, and desire to ensure every customer has an enjoyable experience are what drive her to provide excellent customer service to every Custom Marine customer. Amber currently resides in Statesboro. She enjoys spending time with her family and loved ones, and some of her most treasured memories are of times spent on the Georgia coast.
Rocky Bradley
Parts Department
Born and raised in Bulloch County, Rocky is a proud graduate of Bulloch Academy. Before joining the Custom Marine family, he worked as the Chief Technician at Northland Cable for 28 years.
Having grown up on her family farm close to Williams Landing and the Ogeechee River, Rocky has always enjoyed being outdoors – swimming, fishing and being out on the water. When Rocky decided to pursue a new career, he knew he wanted to do something to bring him back to his roots of being on the water.
Rocky has already proven to be a valuable asset here at Custom Marine. He enjoys assisting customers with their needs, helping with boats, and working with the Custom Marine family.
Rocky has been married for over 35 years to his wife, Ruth. They have three children together and two grandchildren. When he's not working, he enjoys spending time with his grandchildren and fishing.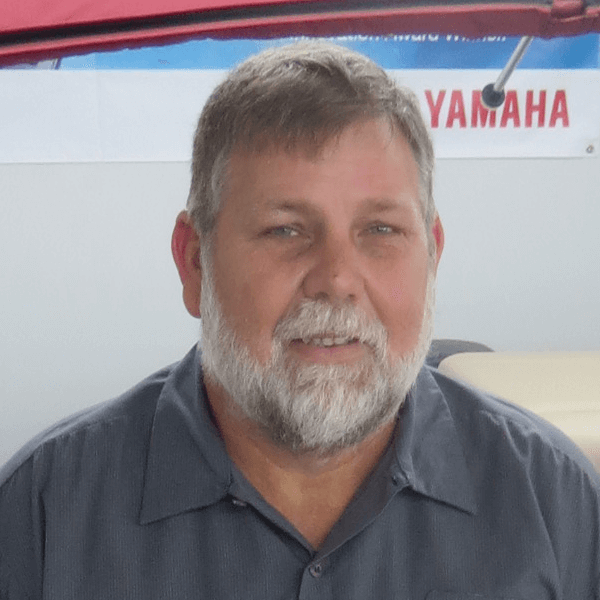 Chris Blackburn
Service Technician
If you've been to the Custom Marine service department, you've probably met Chris. Chris first joined the Custom Marine family when he was 16 years old. He has worked in most every department, but the service department is where he excels. With over 33 years of experience in the boating industry, Chris is a vital resource for our service customers. He is an expert in most every type of marine service, from routine maintenance and oil changes to more complex diagnostics. He thrives on finding solutions for all of his customers, finds joy in helping fellow boaters have a positive boating experience.
Chris is married to wife, Sheila, and has one son. In his spare time, you can find him spending time with his wife, fishing, relaxing and enjoying life.
AJ Connelly
Service Technician
AJ is one of our marine Service Technicians here at Custom Marine. Born and raised in Beaufort, SC, he has spent many hours enjoying time on the water. AJ enjoys using his strong problem solving skills to help solve mechanical issues for our customers here at Custom Marine.
AJ currently resides in Statesboro, and enjoys being apart of the Custom Marine family.